UP Sports Oceanside Sales & Rentals Surfboards, Paddle Boards & Kayaks
If you want to get in or on the water, UP Sports is the place to go.  We've got the best priced rentals in town, and we also offer DELIVERY & PICKUP if you need help getting the boards to the beach! Our wide selection of surfboards, soft tops and standup paddleboards are priced to appeal to just about everyone's budget. Check in on a regular basis, our inventory is always changing, and we always stock the best values we can find.
After you buy your board you'll need to put it on top, and we've got everything you need. As a Thule dealer we will not only fit you with the correct solution for your specific vehicle, we will install it while you wait for free! Whether it's the popular SUP Taxi or one of their award winning Cargo Boxes we've got you covered.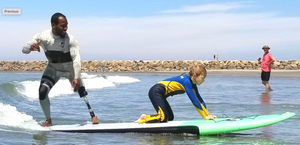 We Love Waves4All!
Waves4All is an Adaptive Surf Club based out of North County, San Diego, CA.
As an Adaptive Surf Club, the Waves4All program enables anyone with any kind of a disability to surf.
When: Last Sunday of every month (over 2 years of Sundays already!)
Where: Tower 16 at the Oceanside Harbor beach
Athlete - If you have any kind of a disability and want to surf, sign up, let's do it!
Instructor - Jump in the water and help out, trust me you will be inspired!
Volunteer - Help setup, cleanup, cheerlead, take pictures, and just serve these awesome people!
Sponsor - There's all sorts of ways to sponsor this incredible effort, let's talk about it!